The list of the best Russian language audio lessons for learning Russian. Listeners learn pronunciation, vocabulary, and grammar of a new language without the need of a textbook. Convenient to use while driving, working out... or anywhere!
The audio language-learning programs provides comprehensive grammar and vocabulary to beginners and advanced students, offering guidance in pronunciation in addition to language fundamentals.

Listeners learn pronunciation, vocabulary, and grammar of a new language without the need of a textbook.

You learnt your own language naturally and enjoyably: now you can learn Russian in the same way.

The Russian audio courses helps you pick up the Russian language naturally, at your own pace.

It teaches you Russian through your own language, building it up, step by step in 'real-time' conditions.

This method works with your brain, helping you to build up your Russian in manageable, enjoyable steps by thinking out the answers for yourself.

You learn through listening and speaking - without the pressure of writing or memorising.

You pick up the language naturally and unforgettably. Go from absolute beginner to confident speaker—without books, homework or memorizing. 

The Russian audio lessons helps you pick up the Russian language naturally, at your own pace. It teaches you Russian through your own language, building it up, step by step in 'real-time' conditions.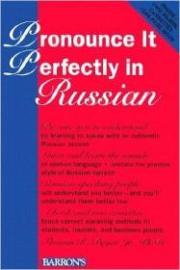 "Pronounce It Perfectly in Russian" is a handy, comprehensive audio course that will enable you to pronounce Russian as it is spoken on the streets of Moscow today.
This program can be used by:
Those who wish to learn Russian by themselves. This course provides plenty of practice to help beginning students master the basics of Russian.

Those who know some Russian and want to improve their oral skills in pronunciation and intonation.
Those who need more training in, and practice with the Russian sound system and long for a comprehensive and systematic explanation of Russian sound system.
This program is designed to correct pronunciation deficiency. It covers basics of the Russian phonetic system, vowels, consonants, and palatalization.
2. Pimsleur P. - Pimsleur Conversational Dialogs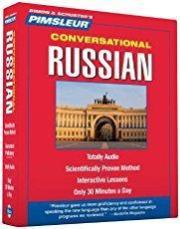 Pimsleur Conversational Dialogs includes Lessons 1-16 from the Russian Level 1 program - 8 hours of audio-only effective language learning with real-life spoken practice sessions.
Each lesson provides 30 minutes of spoken language practice, with an introductory conversation, and new vocabulary and structures.
Detailed instructions enable you to understand and participate in the conversation. Practice for vocabulary introduced in previous lessons is included in each lesson.
Topics include: greetings, numbers, meals, shopping, telling time, scheduling activities, and asking and giving directions. The emphasis is on pronunciation and comprehension, and on learning to speak Russian.
Pimsleur Approach

[QUICK VIDEO REVIEW]
3. Michel Thomas: Russian Vocabulary Course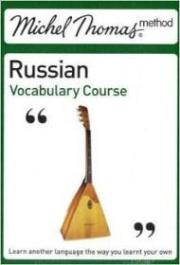 When it comes to learning Russian it doesn't get easier than the Michel Thomas Method. The Michel Thomas method eases you into the Russian language by breaking it into its component parts. You will then be able to easily form your own sentences to say what you want in Russian!
The native-speaker teacher instructs two students in the recording studio in real time and the student at home becomes the third member of the class. Learning vocabulary is notoriously difficult if attempted in the traditional way - with long lists and hours of memorisation.
However, with the Michel Thomas Method, new words and phrases are presented in such a way that they cannot be forgotten. They are interwoven with what has gone before so they are imprinted in your knowledge bank for ever. The vocabulary in the courses is carefully chosen from a relatively small number of 'power words' which open up an amazing range of expression and comprehension.
Building and expanding on the language structures taught in the Foundation and Advanced Courses, these new Vocabulary Courses give you all you need to enjoy travelling in the Russian-speaking world, be it for business or pleasure.
Michel Thomas Review: How I learn Russian

[QUICK VIDEO REVIEW]
4. Learn in Your Car Russian: The Complete Language Course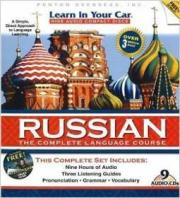 The Learn in Your Car series treats you like a child-in the best possible way-starting with one-word phrases ("please," "good-by"), counting exercises, and simple nouns. 9 hours of audio.
Three Levels of Study:
Level 1: Key words and phrases, basic grammar skills, emphasizes travel needs
Level 2: Expands vocabulary, new grammar concepts, more day-to-day activities
Level 3: Broadens vocabulary base, more advanced grammar skills, enriches conversational ability.
A Teach Yourself Guide provides you with a clear and comprehensive approach to Russian, so you can progress quickly from the basics to understanding, speaking, and writing Russian with confidence.
Within each of the 20 thematic chapters, important language structures are introduced through life-like dialogues.You'll learn grammar in a gradual manner so you won't be overwhelmed by this tricky subject.
Exercises accompany the texts and reinforce learning in listening, speaking, reading, and writing. This program also features current cultural information boxes that reflect recent changes in society.
The accompanying audio CDs include audio exercises--performed by native speakers--that reinforce communicative skills.
Teach yourself RUSSIAN [QUICK VIDEO REVIEW]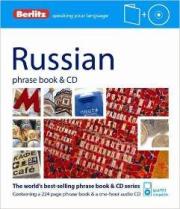 The Berlitz Phrase Book course completely redesigned for greater ease of use, this new Russian phrase book opens with an essentials section, offering the most basic vocabulary for each unit and serving as a quick point of reference. Includes over 1,200 phrases and over 2,300 words. Maps and index.About the AuthorIn January 2003, the renowned Berlitz Publishing became part of the Langen-scheidt Group. The Langenscheidt Publishing Group, the premier group of map and travel companies, offers over 4,000 North American and international street maps, road maps, atlases, language-learning, bilingual dictionaries, and travel-related products covering countries, cities, and languages in every continent.
Berlitz Phrase Books provide:
A new "essentials" section, offering the most basic vocabulary for quick reference.

Expanded cultural tips, including sites to visit, places to dine, and faux pas to avoid.

Easier-to-read single columns

.

Contemporary icons and illustrations.

Up-to-date language to reflect the changes in banking, entertainment, media, and technology.

Over 1,200 useful phrases and over 2,300 words

.

A unique color-coding system

.
An easy-to-read pronunciation guide.
A dictionary with more than 3,500 words to fit any situation.

A manageable, portable size.